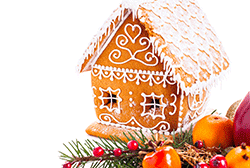 Thinking about pulling your home off the market during the holidays or waiting until they're over to sell? Hold that thought while you consider these reasons why the holidays can be a great time to sell.
Buyers who are out home hunting during this busy time of year tend to be serious, motivated buyers. January is a popular time to start a new job, for example, so maybe they're under a deadline to move; there are a number of reasons buyers may need to close on a new home before the end of the year.
Because most people do wait until after the holiday season to put their homes on the market, you'll have less competition from other sellers if you sell during the holidays. What happens when there's less available inventory for buyers – serious buyers – to choose from? Prices go up, which is good news for those looking to sell.
The emotional quotient. Dressed up in the sights and smells of the season – twinkling lights, greenery, and freshly baked goodies – your home may never look and feel quite so appealing as it does at this special time of year, allowing you to capitalize on buyers' emotions at a time when they're already running high.
Depending on your local market activity, selling your home now could mean being much better positioned as a buyer come spring. Your offer will be more attractive to sellers as it won't be conditional on selling your home first, and you can close quicker – crucial advantages for a buyer when the market picks up steam in the spring.
Contact your real estate sales representative today to discuss whether putting your property on the market this holiday season is the right move for you.