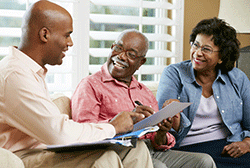 With the average price of a home in Vancouver coming in at an average of $1,400,000, it's hard for many individuals to even imagine qualifying for a mortgage on their own. That's why purchasers may ask family or friends for financial backup as a co-signer.
A co-signer is an additional borrower added to the mortgage application for the purpose of adding strength to the approval of the mortgage financing. An example of this is a parent co-signing for their child who is buying their first home. While the co-signer's name will go on the mortgage (the debt) as well as on the accompanying property land title (the asset), the co-signer doesn't typically live at the property. A co-signer must have a strong, steady income with minimal debt.Co-signers must be aware of their responsibility on the mortgage debt. 
Although the primary borrower may enter the arrangement understanding that they're responsible for all of the payments from their own bank account, if they don't pay, then the co-signer is on the hook for not only the mortgage principle and interest payments, but also the property taxes and, if applicable, condo fees. The cosigner also needs to be aware that all of the costs associated with this new home would need to be disclosed on any future credit applications.
Please call for the latest market pricing, and for assistance with your – and your friends and family's – buying and selling plans.