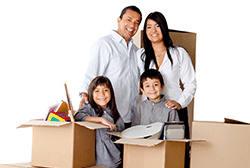 Are you planning to move to an area where the real estate environment is considered a "seller's market," where there is more buyer interest than available housing inventory? If so, here are some suggestions to strengthen your chances of securing your dream home.It's vital, before even starting your home search, to get a formal mortgage pre-approval – not just an estimate from the Internet – to confirm exactly what you can afford and that you qualify based on your income and credit.

Once you get a set figure from a lender it's important to recognize two important things: First, just because you qualify to borrow a certain amount doesn't mean you have to spend that maximum amount; and second, closing and moving costs can add up quickly – make sure to budget accordingly. Being financially prepared is a crucial first step to home buying success.Speaking of budget, if you're able to commit a sizable down payment to the property, you'll come across as having stronger purchasing power, which could give you a buyer's edge in a tight market.

A flexible moving date – sooner or later depending on the seller's needs – can also give you an advantage.Please call today for a no-obligation discussion about your current mortgage and your plans for moving or investing in real estate in the future.